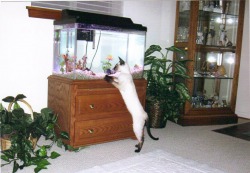 I come to your home to take care of your pets while you are away. Be it mid day visits, because you can't get home during the day or a vacation away from home, I visit your pet(s) and keep them on their normal routine. Your pet(s) can stay in the comfort of their own home. Your loved ones will be less stressed and not exposed to unwanted animal viruses and parasites. You will also feel safer knowing that your home is being looked after and have a "lived" in appearance. Best of all, your companion will be there when you get home!

---
I take care of your dog(s) in my home. If your dog(s) is in need of more attention, I welcome them into my home. During this time they are treated like one of our family. They are crated at night and when I am doing pet sittings for other clients. After a 6 night stay, a complimentary bath is given.


Large animal visits. With my large animal background, I am comfortable taking care of any four footed friend. Currently I pet sit for Alpaca, donkeys, horses and chickens.


Exotics, pocket pets, birds. Cages will be cleaned as needed, fresh food and water given and letting out for exercise as requested.


You bring your dog(s) to my house for daycare. Monday, Wednesday and Thursday each week I offer doggie daycare. They get individual attention, naptime and a snack. There is a limited number of dogs accepted. Full and half days are available.


Administering Medications. With my degree as a CVT, I can administer fluids, injections and medications. Geriatric care is also given.


Security house checks. If you need someone to stop in to ensure that your house is secure, get the mail, water plant, ect...


Other sevices offered (included)
E-mailing or texting updates of your companions while you are away
Bringing in mail/newspaper
Taking out garbage/recycling
Light watering of plants
Security lighting, closing/opening of blinds


Other services offered (not included)
Dog walking
Dog bathing
Snow removal
Lawn care
Transportation to and from vet or groomer
Nail Trimming


Karla's Kritters Pet Sitting (920)-585-4949
Bonded and Insured